Town of Georgina retires its "tender box" and goes digital with bids&tenders
Background 
The Corporation of the Town of Georgina in south-central Ontario serves approximately 50,000 citizens across dispersed municipalities and communities. The 3-person procurement team is responsible for an annual procurement budget of $60M, issuing around 100 public bids annually.
Stirling Munro, a senior strategic sourcing and procurement specialist, came on board to lead the procurement services team for the Town of Georgina in 2016. His team is committed to delivering municipal excellence through innovative procurement, and he spearheaded the transition to bids&tenders.
Before implementing bids&tenders, Georgina's procurement process was very manual and paper based:
Bidders had to pick up hard copies of bid documents from the procurement services office. Procurement services would register each bidder and collect their company contact information.
The town advertised its opportunities in the paper and online. That meant that new potential bidders were unlikely to hear about the opportunities and, if they did, wouldn't necessarily want to send an employee all the way to Georgina to pick up the documents.
Bidder questions were faxed to the procurement services office, and addenda were faxed to all registered bidders. Keeping track and ensuring all registered bidders received the addenda was time consuming.
All documentation was stored in large filing cabinets throughout the office; finding and filing documents added many hours to each project. In fact, the procurement department had a full-time employee devoted solely to administrative work.
Submissions were done in hard copy, and town policy required that each bidder submit multiple copies for every evaluator on the project.
Procurement services staff would unlock the "tender box" just after closing time, and immediately start inputting the data into spreadsheets to summarize the results. They would then double-check all submissions for mathematical errors, and provide detailed analytics to the requisitioning departments. This would take hours, and sometimes days.
Evaluators would use excel spreadsheets to input scores and comments, and then procurement staff would have to consolidate the results. These then had to be reviewed to ensure no errors were made and the evaluations aligned with the original scores. Notes were stored for any supplier debriefs.
The procurement team was also responsible for collecting and tracking WSIB, insurance, bonding, bid deposits, and any other post-award documentation, which only added to their administrative burden. This process also added unnecessary risk, as it was up to staff to ensure that documentation and certifications were not lost or out-of-date.
Overall, the process was time-consuming and cumbersome for both procurement staff and suppliers, and it resulted in long days and many hours of extra time for the team to stay ahead of the backlog of projects.
Solution
About one year after starting at the Town of Georgina, Munro had had enough.
It took me time to adjust to the processes and requirements of public procurement. I gave myself a year to fully understand the Town's current procurement processes and develop a strategy for the future. After engaging with peer municipalities and researching innovative alternatives, the procurement team began the journey of re-inventing ourselves.
After discussions with his counterparts in surrounding municipalities, Munro met with bids&tenders.
We liked the fact that bids&tenders was already being used by our neighboring communities, and that it was supported through a supplier-pay model at no cost to the municipality. We could see the workflows and features had the potential of saving procurement services time and assist us in a goal of becoming a paperless office.
Once they chose to implement the platform, Georgina underwent a multi-stage implementation process to ensure a seamless transition to eProcurement.
First, staff were given initial training on the platform basics. This allowed them to begin posting bids on the platform, so at least suppliers were being notified of available opportunities. Second, with the help of the bids&tenders implementation team, Georgina's procurement office replaced the town's outdated procurement policies and procedures to align with a complete adoption of bids&tenders.
Once the new policies and procedures were in place, and internal staff had been trained appropriately, the town implemented the remaining modules of the system. In 2018, Georgina was fully equipped to post projects, manage contracts, and receive and evaluate submissions.
The process of implementing the system was quite easy. Following the phased-in approach gave us time to learn the system's functionality before proceeding to the next phase. It was simple and intuitive to use. The support team and account manager were instrumental in ensuring we were successful.
The Town of Georgina's procurement services department had several major goals with the implementation of an eProcurement platform, all of which were met or exceeded by bids&tenders: 
1. Reduction of paperwork
With bids&tenders, the Town of Georgina has accomplished their goal. They have emptied all but one small file cabinet; the office is free of clutter and their processes are all digital.
Ultimately, we aspired to a paperless procurement office with all of our records being stored digitally, and eliminating the need for file cabinets.
2. Shorten the project cycle time
The ability of bids&tenders to summarize and compile all the spreadsheet files and analytics has reduced the cycle time for procurement services to provide bid results to the requisitioning departments. Tasks that previously took hours or days are now completed in minutes.
3. Standardize & automate processes
Faced with an ever-increasing workload to support a growing municipality, the team has been able to increase capacity to handle more projects each year without hiring additional staff. This is largely thanks to the efficiencies realized with an eProcurement platform. For example, questions can be answered and addenda issued online and sent to all registered plan takers automatically, eliminating the tedious and cumbersome process of faxing addenda each time.
Our team feels that implementing bids&tenders has been a great step for us to become better at what we do, and has assisted us in standardizing our processes and templates, making it quicker to turn projects around.
4. Broaden reach to new suppliers & increase submissions
Georgina's projects prior to launching bids&tenders had a low number of plan takers; some departments complained that it was the same 1-2 suppliers bidding each time. With the help of bids&tenders' broad supplier network and notification system, last year the town averaged 11 plan takers, and as many as 40, per opportunity on its 75 awarded projects.
Suppliers have commented that bids&tenders is easy to use; many were already accustomed to the platform as it is widely used in the region. They are pleased they can access projects from their offices and no longer have to travel to get documents or attend bid openings.
bids&tenders solicits constant supplier feedback, and receives high marks on ease of use, support, and overall experience using the platform.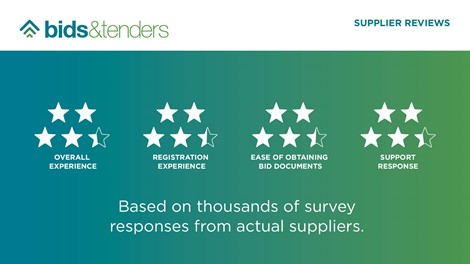 We had a ceremony in our office to retire the "tender box." It's still in the office as a reminder of how far we have come in our journey.
5. Reduce/eliminate bid submission errors
With the bids&tenders compliance checker preventing incomplete and inaccurate submissions, the number of bid errors and irregularities has decreased dramatically. This saves the team from wasting time reviewing incomplete or noncompliant submissions – and from having to discard the best submissions for small mistakes or missing information!
6. Streamline the evaluation process
Evaluators have commented on how much more convenient the bids&tenders evaluation module has been. With the previous system, evaluations required going through huge binders of submissions, and recording notes and scores in a spreadsheet that had to be consolidated later. Now, evaluations can take place right inside the platform, from anywhere with an internet connection. All the documentation and bid submissions are stored in the cloud for easy reference.
Supplier debriefs are also much easier now. The project manager can easily run the necessary reports to conduct a thorough, evidence-based debrief.
Final thoughts
To date, the Town of Georgina has awarded over 300 public projects on bids&tenders, and shows no signs of slowing down. While the procurement team has been impressed with the platform as it is, they've also been impressed with the ongoing support, training, and platform updates they've seen over the years.
Aside from all the functional and time saving process related benefits, it's refreshing to see bids&tenders seeking input from procurement professionals to improve an already impressive platform and make it better so we can do our jobs better. The development team assesses suggestions and where possible, implements the functionality with little delay. This partnership will ensure the tool will continue to evolve to be the best digital procurement platform it can be.