New Jersey & eProcurement
How evolving legislation affects your government agency
We all know governments can be slow to adopt new technologies or change processes from how they have always been done. In some cases, implementation of eProcurement by government agencies is not about unwillingness to adapt, but legislation. Outdated laws regulating procurement can limit or even prohibit to what extent governments are able to alter their processes.
Fortunately, New Jersey is moving forward.
On July 18, 2020, Governor Murphy signed into law the Electronic Construction Procurement Act P.L. 2020 c. 59. This legislation permits local governments to use an electronic construction procurement process for public works and construction contracts. After March 1, 2021, this law also requires that the State use electronic procurement for public works.
This builds on the Local Unit Electronic Procurement Act A.B. 3112, which authorized entities under the "Local Public Contracts Law" and "Public School Contracts Law" to use digital platforms for the purchase of utilities and sale of property. The Electronic Bidding Construction Act A-1308 goes further, mandating the use of electronic procurement for public works projects exceeding five million dollars, and is still under consideration.
So what does this mean for New Jersey government agencies?
Essentially, it means most New Jersey government entities are now authorized to use eProcurement to post opportunities, receive bid submissions, and manage contracts related to public works construction and the purchase of goods and services. Projects must still be advertised in local papers, but those advertisements can point people to more information online.
The general requirements of what to look for in an eProcurement platform remain important, but for New Jersey government organizations the legislation requires certain functionality to be compliant.[1]
Company selection
The State mandates that the company selected must have experience providing an eProcurement platform and services to other public entities. The company must also provide implementation services and training, for both the public entity and their vendors, at no additional cost.
bids&tenders has been working with public entities for over 15 years, has over 200 public entities currently using the platform, and has government procurement specialists on staff to assist with implementation and training for your organization. You can view just a few of our success stories on our website.

Platform functionality
There are some digital procurement offerings that are effectively just tools to advertise and receive electronic bids. New Jersey's legislation goes further, and requires a closed-loop system where all steps, from bid solicitation to submission, are completed electronically. Along with other requirements discussed in detail below, this system must have the ability to:


Advertise bids and distribute bid documents, including plans and specifications;
Allow bidders to withdraw, alter, and resubmit their bids at any time before the deadline;
Issue addenda online;
Accept digital signatures; and,
Create and edit bid form templates, including the capability to enter data in specific formats (e.g. numeric pricing).

These functionalities are considered the bare minimum to us at bids&tenders. Our platform is more than just a bid submission machine – our contract management features go beyond the bid to help you manage the entire project to completion. We are also constantly innovating to offer more features based on the needs of our partners.
Bid compliance
One step in the process that often gives procurement professionals headaches is validating bids for compliance. Incomplete or incorrect bids can mean that the lowest-priced or best-qualified vendor is disqualified, sometimes costing organizations millions of dollars to go to the next best bid. For paper-based submissions, bid validation is a slow and manual process, and may go on for weeks after the submission deadline.
That's why New Jersey requires government entities to use a platform that automatically validates bids and alerts bidders of missing information. Platforms that post bids online but require email submission, for example, would not meet this requirement, as those email submissions would still have to be manually verified.

The bids&tenders system only allows 100% compliant bids, thanks to our automated compliance checker. Bidders cannot submit until all errors are cleared, required documents are attached, and pricing information is properly entered.
Vendor notifications
New Jersey has considered not just the buyers' needs in its legislation, but also the vendors. Along with being alerted about non-compliant bids, vendor notifications must include the ability to be notified of relevant opportunities by commodity/classification codes, as well as any addenda or modifications made to opportunities they are interested in.
New Jersey requires that eProcurement platforms have vendor notification functionality built in to improve the relationship between government agencies and vendors.
At bids&tenders, we value your vendor relationships and seek to make the process as seamless for them as it is for you, by offering all the required notification features, and more. For example, when vendors have questions, you can automatically create an addenda with the answer to that question. That addenda goes out not just to those who have already submitted a bid, but anyone who has downloaded the bid documents that may be working on a submission. And to ensure vendors aren't just notified, they must acknowledge the addenda before their bid can be submitted. If they already submitted, their bid is withdrawn until they acknowledge and submit again.
New Jersey requires that bid information cannot be accessed by a third party before the bid deadline, and that bids are submitted in an encrypted format.

Because we work with public and private sector entities, bids&tenders takes data privacy seriously. All submission data is stored in a virtual locked box until the closing time, when only the team members you select will have access. Anytime a staff member opens a bid, it's logged and tracked in the system. Furthermore, your organization does not have any access to incomplete, withdrawn or late bids. Our data storage servers are based in the US and offer bank grade data encryption.
Is your New Jersey organization looking into eProcurement platforms?
Download our checklist of the legal requirements to help you evaluate your options!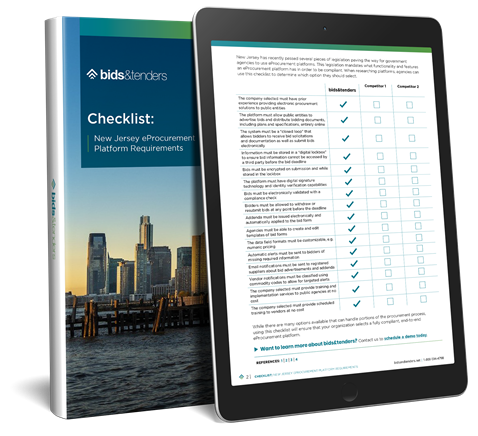 [1] Per NJ P.L. 2020 c. 59 C.52:34A-7 Criteria for electronic procurement processes.